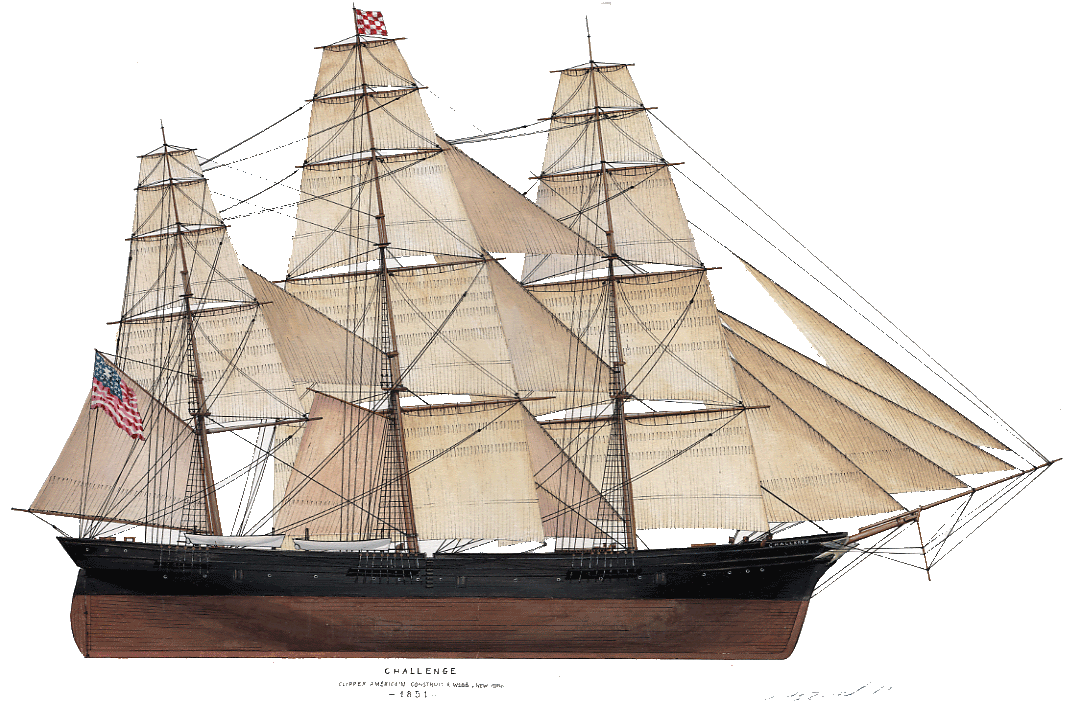 The Challenge is probably the most beautiful, fastest, and largest clipper ever built in the USA. It was built at G.H. Webb's yards in New York to dethrone the mythical Flying Cloud, which was no easy task. The latter was deemed unbeatable, and his record had been five years since the Challenge took over. His owner, N.L. And G. Griswold, had him baptized during the largest launch ceremony ever seen in New York. Immense, moving 2006 vacuum barrels, 70 meters long, its very solid hull had iron stropes and was 51 cm wide at the waterline, the challenge was also the first to own three bridges. The head of his mainmast peaked at 70 meters, and the shape of his hull was the thinnest ever seen. Its black hull was enhanced by a thin golden band, and ended with an eagle with its wings spread, also gilded. Its interior was extremely sophisticated for a commercial vessel, a "cargo ship" of current standards, with two dwellings for officers, another large room and an antechamber, 6 luxurious cabins in rosewood, paneled with sculptures In oak, enhanced with fine gold.

The Challenge was designed for trade between California and China. He could also board wealthy passengers. High hopes were placed in him and for his first voyage he was entrusted to a celebrity of the time, Captain Robert H. Waterman, known to be the fastest on this road. His first journey took him from New York to San Francisco, via Cape Horn, and Waterman was promised a $ 10,000 bonus if he could complete the course in 90 days. He put 108 of them. For if the ship was sublime, his crew, picked up in portr, counted mainly of false sailors and true traine-savates attracted mainly by the gold of California. It was thus that a mutiny took place off the coast of Rio, and the second was killed. The officers re-established the order, and the journey continued in a heavy atmosphere. At Cape Horn, three gabbers fell from the yard of a mizzen sail and killed themselves, and later a dysentery carried off 4 other sailors. But on his first crossing to China, it was Land who replaced Waterman, judged too hard, and with better men. He beat the record for the return in 34 days but died on board. Pitts replaced him and made other crossings. By rallying with Wamphoa Tea Great Britain, he made a new record in 105 days. The British admired him so much during his stay that the lines of his hull were raised for the Admiralty.

But in 1861 the proud ship was tired. It was sold to Bombay under the name of Golden City, and traveled between India and Hong Kong, and then in 1866 to Wilson and Co. of Great Britain between Bombay and Java. At the Cape of Good Hope a bad blade broke through the rear and carried off all its officers. He often ended his journeys with a part of his riggedly less, and counted many victims in his career. The beautiful ship was too thin, and therefore, because of its high rigging, unstable, dangerous. He ended his career by escaping on the reefs of ouessant, magre the help of a French gunboat, in 1876 ...