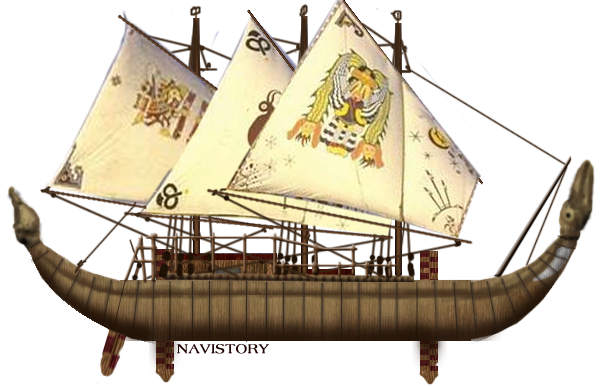 A recent reconstruction, the Mata Rangi III of the Spanish Munoz (navistory).

Reeds of Lake Titicaca in Bolivia, as well as those bordering many of the great rivers, have been, for want of large trees, the material of choice for construction, from baskets to huts to boats. Thanks to their hollow structure, gorse once braided and bound together over the surface of the water do not fill and allow an archaic vessel to float permanently, and to serve as a means of displacement. Thus, the Andeans of this lake know a know-how lost for millennia, since the wood was implanted throughout the antiquity, relegating the flexible ships in rush in the obscure beginnings of the navigation. Reed boats like the Peruvian totora are constructed much like braided baskets, with both ends curved upward. Their manufacture seems quick and easy, but it requires prerequisites and experience.

Since Thor Eyerdahl, many scientists and adventurers have tried to prove the migratory flows, voyages and discoveries of the oldest civilizations. Most, always mediatized because spectacular ended in failure, mainly for reasons inherent in this type of ship, more at ease in calm waters. The biggest and most impressive of all was the Mata Rangi, by the Spanish Kitin Munoz, whose idea was to beat all the records of distance, size and duration of navigation on a ship in rush whose Construction was overseen by the Esteban family of the Aymara, who passed on from father to son the revenues of construction of the totoras (derivatives of the largest are used as floating rafts). In 1997, Mata Rangi II (30 meters-70 tons) attempted to rally Japan from Easter Island and sank after 25 days of navigation, the Mata Rangi II left Chile in 1999 to try to rally the " Asia but ran aground in polynesia cut in two, gnawed by the mollusks ...

The Mata Rangi III was built in Barcelona in 2001, with the aim of joining the Caribbean from Morocco with a ship more than 21 meters by 4.5 meters wide by 15 tons, three sails of the Polynesian type and a multicultural crew, Mission under the auspices of Unesco. The mission ended at Cape Verde after the vessel suffered serious irreparable damage as a result of a storm. If none of these expeditions proved the link in rehistoric times of peoples between the continents, it proves in any case that the construction of ships in rush, however primitive it was, allowed traveling over distances and long enough To join distant lands via the islands more than by direct travel. The material itself did not support the marine environment for more than a certain time. Impregnation and rot, degradation of the molluscs, storms, were in fact opposed to long crossings in good conditions. As such, only ships made of oak, with bowling and pairs, will have the necessary arguments ...